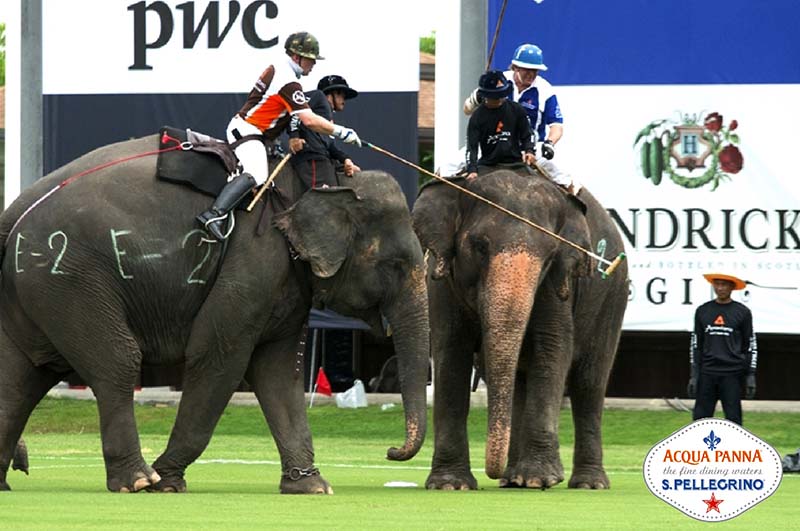 King's Cup Elephant Polo Tournament Bangkok 2014, sponsored by San Pellegrino & Acqua Panna
The Kings Cup Elephant Polo Tournament was introduced to Thailand in 2001 by Anantara Hotels, Resorts & Spas and has grown to become one of the biggest charitable events in Thailand that has raised almost US$600,000 for projects that better the lives of Thailand's elephant population including housing for the mahouts and families, shelters for the elephants and elephant ambulance for the Thai Elephant Conservation Centre (TECC).
คิงส์คัพช้างโปโลทัวร์นาเมนต์ได้รับการแนะนำให้รู้จักกับประเทศไทยในปี 2001 โดยอนันตราโรงแรมรีสอร์ทและสปาและได้เติบโตขึ้นเป็นหนึ่งในกิจกรรมการกุศลที่ใหญ่ที่สุดในประเทศไทยที่ได้เงินร่วมการกุศลเกือบ 600,000 ดอลลาร์สหรัฐสำหรับโครงการที่ทำให้ประชากรช้างในประเทศไทยรวมทั้งที่อยู่อาศัย สำหรับควาญช้างและครอบครัวที่พักอาศัยสำหรับช้างและรถพยาบาลช้างของศูนย์อนุรักษ์ช้างไทยดีขึ้น (TECC)
After four days of fun festivities and trunk to trunk action, the 13th annual King's Cup Elephant Polo Tournament came to a close on Sunday. Taking place in Bangkok for the first time, 16 teams with players from around the world showcased skillful play and created many memorable on-pitch moments, with the tournament resulting in new King's Cup champions. The tournament was once again a great success, and is growing year on year as a key event in Thailand's sporting calendar, each year – raising more funds for Thailand's elephant population. S. Pellegrino along with the brands of Acqua Panna and Sunraysia is a proud supporter of the Tournament and the great causes involved with the connected charities.